Sea Turtle Exploration Teacher Workshop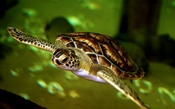 The North Carolina Aquarium at Fort Fisher presents Sea Turtle Exploration: a curriculum to help educators engage students in the fundamentals of STEAM through ready-to-use, standards based lesson plans and sea turtles. Join us on Saturday, March 7 for a hands-on teacher workshop to guide you through our new curriculum and website.

In addition to the curriculum, you will learn about additional resources such as weekly blog posts that will be made during the school year. Topics will include: species profiles, aquarium staff spotlights, behind-the-scenes videos, new lesson plans and more. You can even follow the growth of Aquarium hatchling sea turtles by visiting the blog each week!

Aligned with the new Common Core standards, your class will be able to "adopt" a turtle and learn about its care and growth. By adopting our sea turtle you will receive weekly updates with information including the turtle's current weight and length. Each class will also receive a certificate of participation.

By the end of the workshop, you will be familiar with the website, curriculum and how to implement the lessons in your own classroom. The workshop will include a behind-the-scenes tour in our new STAR Center.
Saturday, March 7, 2015 from 1:00 - 4:00pm

Location:

North Carolina Aquarium on Roanoke Island
$10 per person

For additional workshop information, contact Megan Ennes at
910-458-8257 ext. 234