Recycle Old Stuff To Make Small DIY Bathroom Vanities That Are Big On Style
1. Recycle a Bicycle
Reuse your old bicycle as a sink stand. Your bathroom will absolutely be unique and unordinary.
Photo via www.pantip.com

Photo via www.amazinginteriordesign.com


2. DIY Bathroom Island With Wooden Pallet

Wooden pallet has a million and one uses. This time we present you the idea of using old wooden pallet as a bathroom island. It will give your bathroom a rustic look and a lot of space for storing towels and toiletries.
Photo via www.hutorok.in.ua

Photo via www.tophomedecor1.blogspot.com



3. Wine Barrel Vanity

Making wine barrel vanity for your bathroom would be an interesting and attractive DIY project.
Photo via www.blog.diynetwork.com

Photo via www.inhabitat.com

Photo via www.messagenote.com



4. Bathroom Vanity from an Old Dining Table

Another creative idea, this time how to reuse your old dining table. You will have to do some changes and additions, but the final result would be a useful and unique vanity for your bathroom.
Photo via www.makelyhome.com



5. Sewing Machine Bathroom Vanity

You can also use the old sewing machine as a bathroom vanity.
Photo via www.ideadesigncasa.org



6. Rustic Bathroom Vanity Design

Another idea for an interesting bathroom vanity. Use some wooden logs to make it and give your bathroom a rustic look.
Photo via www.amazinginteriordesign.com



7. Recycle Timber Slabs

The picture says everything. It's practical, unique and fits perfectly in the whole look of the bathroom.
Photo via www.crunchylipstick.blogspot.mk
8. Bathroom Vanity from a Vintage Closet
Transform your old and used vintage closet you had in your bedroom in a bathroom vanity, instead of buying a new one. You will save money and it will still look amazing.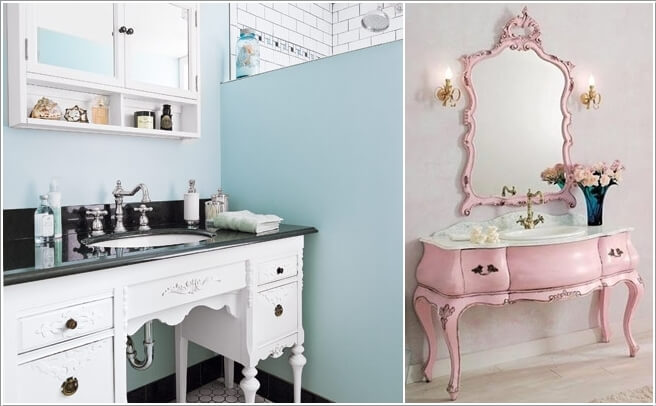 Photo via
www.amazinginteriordesign.com
9. Turn an Old Dresser Into a Bathroom Vanity
Pretty much the same idea as the previous, but this one is also very creative and will look very, very good in your bathroom.
Full tutorial on www.diynetwork.com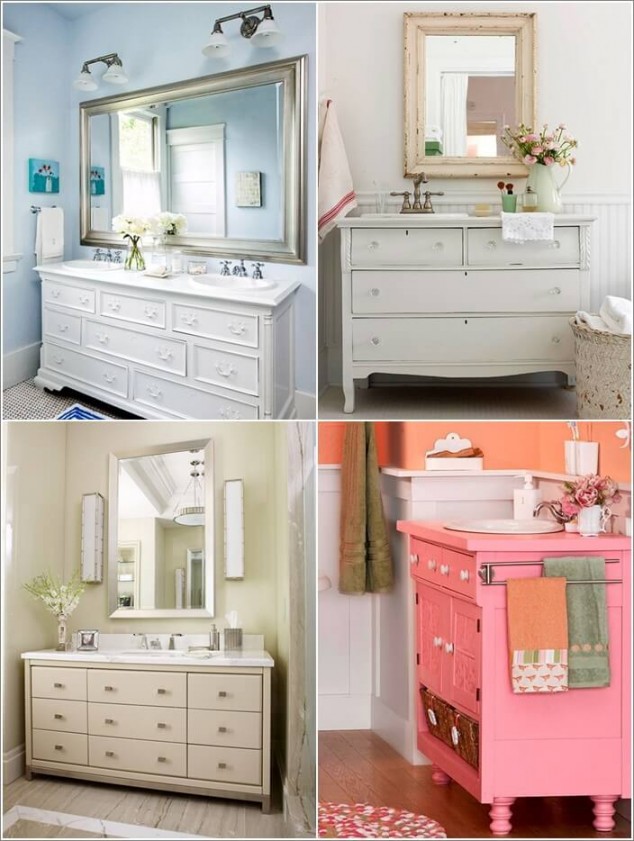 Photo via
m.profit.bg
10. Open Shelf Vanity
Another interesting idea for your bathroom vanity. This open shelf vanity is excellent to display your toiletries and towels, so you won't lose time opening doors or drawers to find the things you need.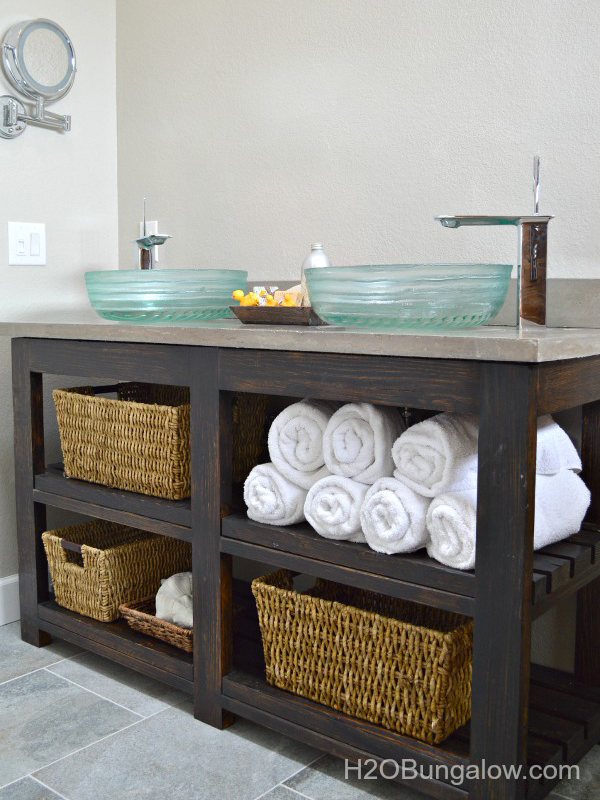 There are a lot of old stuff just lying around your house, that are not useful, but just take up space. Maybe you're too busy, lazy, sentimental or just have more important things to do at the moment, than handling with this problem. But you certainly have to consider the idea of dealing with some of the old stuff you have in your home. This way you will certainly get more space in your home, and a neat and clean look. There are awesome and creative ways to recycle your old stuff that can be taken advantage of by almost anyone. Don't throw your money buying something that you can create in your home on your own, using some old stuff. If you need a change in your bathroom, or a new vanity for your bathroom, there is always a way to transform some old things you have in your home and create one on your own, instead of buying a new one. This way you will save money and deal with some of the unnecessary things you keep in your basement. So, if you're looking for a little inspiration or a new DIY project for a bathroom vanity with a completely new and unique look, these 10 creative ways to repurpose, reuse and recycle old things will definitely help you.